Tong Manipulator TKHM-III
Tong Manipulator TKHM-III
A device for guaranteed safe, remote operation of nuclear power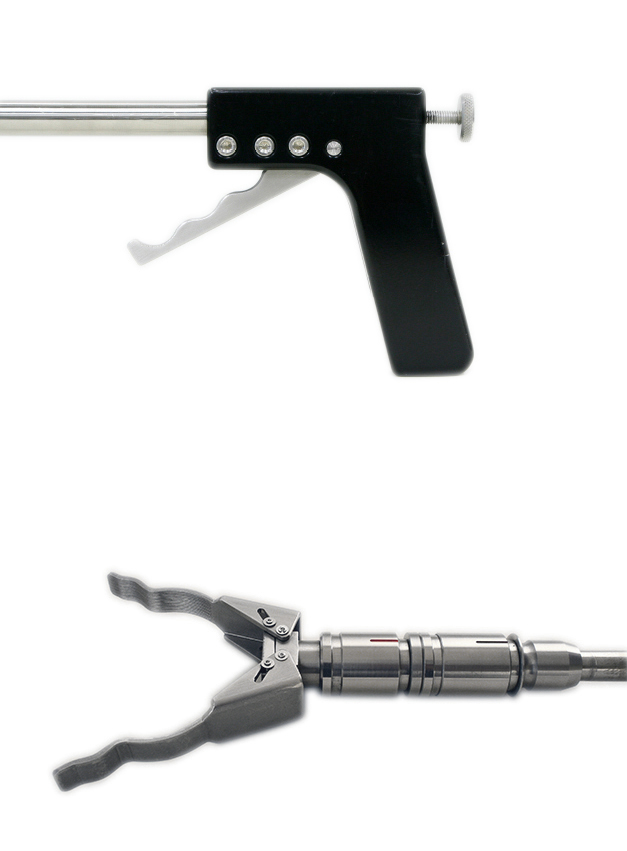 Tong manipulators are used in facilities such as nuclear power research institutes and nuclear fuel offices.
They are especially used as handling equipment for the hot cells installed in nuclear fuel reprocessing plants and waste analysis facilities. For handling equipment, generally a master-slave type for handling large-scale radioactive substances and a tong manipulator for handling small-scale radioactive substances are installed in parallel or in individually.
The TKHM-III model designed and manufactured by our company has the same functionality as a conventional tong manipulator, but at our customers' requests we made improvements such as improving their compatibility, especially for each lot, improving the airtightness of the airtight mechanism portion, and improving the accuracy of opening range of the fingertips.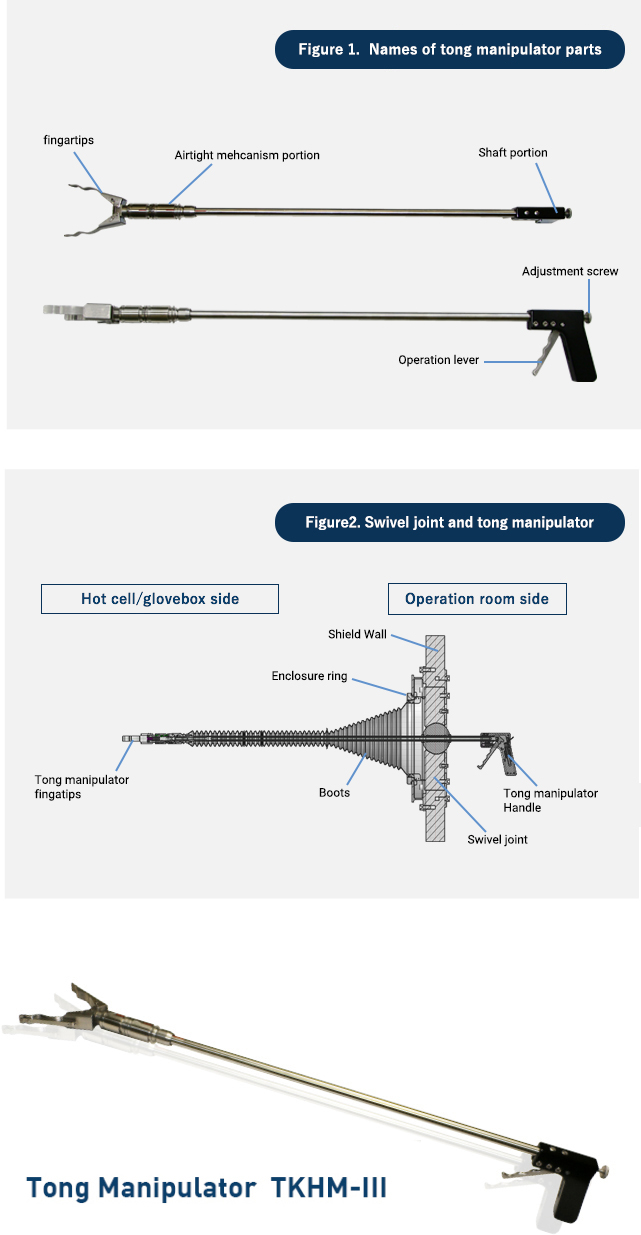 1/

The structure consists of the fingertips, airtight mechanism portion, and a shaft portion, and it can be mounted and demounted with a single touch with an attachment/removal jig.

2/

We improved the accuracy of the main parts, based on conventional tong manipulator function, to improve its compatibility, the smooth operation and airtightness of the airtight mechanism portion, the opening range of the fingertips, and improved reliability through prevention of variation, etc.

3/

We can provide custom parts suited to your needs in terms of function, shape etc.

4/

In addition, you can also consult us about products with no airtight adapter, products with different shaft diameters (within a φ13 - φ15 range) etc.
・Business classification: Nuclear power related facilities, reprocessing factories and analysis facilities, RI-handling facilities, hazardous chemical handling facilities
・Objective classification: handling equipment used for hot cells, handling equipment for handling dangerous chemical substances
Dimensions
Basic length
Dimension L shown in Figure 3
Standard: 875 mm
Maximum 1200 mm
It can be manufactured as specified as a custom item. It is possible to purchase the entire structure or any 1/3 individually.
Arm pipe diameter
13mm/13.8mm/14mm/15mm
Operation lever opening degree
Dimension θ shown in Figure 3  0 to 46 °
It can be manufactured as specified as a custom item.
Fingertip opening degree
Dimension A shown in Figure 3
Standard 130 mm (maximum)
It can be manufactured as specified as a custom item.
grip
Fingertip grip force
2 kg or less
Airtight mechanism portion
Seal strength
Leakage amount at 100 mm Aq pressurization1 × 10-5atm/cc per sec or less
Ambient temperature and humidity
Operating ambient temperature
-5℃ - 60℃
Ambient humidity used
90% or less
Model display of individual parts
Product name
Model
Model display contents
Shaft part
TKLIII-Shaft length
example: TKLIII-1000
Airtight mechanism portion
TKS-15
15: Indicates pipe diameter
Fingertips
TKG-A
A: Standard fingertips type

*Please understand that specifications are subject to change without notice due to improvements, etc.