A device for guaranteed safe, remote operation of nuclear power
Swivel joints are used as shown below in related operations at facilities such as nuclear power research institutes, nuclear fuel offices, and radiation treatment research and development facilities (pharmaceutical companies).
They are especially used as handling equipment for the hot cells installed in nuclear fuel reprocessing plants, waste analysis facilities, and radiation treatment research and development facilities.
For handling equipment, generally a master-slave type for handling large-scale radioactive substances and a tong manipulator for handling small-scale radioactive substances are installed in parallel or individually.
The ball sockets we use are compatible with the models most commonly used in industries dealing with radioactive materials within Japan, and we handle all components in the overall system: ball sockets (corresponding to various types of radiation seal specifications: corresponding to the shield wall thickness), tong manipulators, boots (with airtight mechanisms), boots mounting cell rings, boots mounting and removal jigs etc., and we also handle equipment and consumables.
Related businesses: nuclear power laboratories (nuclear reactor materials, nuclear fuel, structural materials, waste, materials for medical uses), nuclear fuel recovery business, nuclear fuel manufacturing business, Medical RI manufacturing business, radiation treatment research and development business, agricultural RI manufacturing business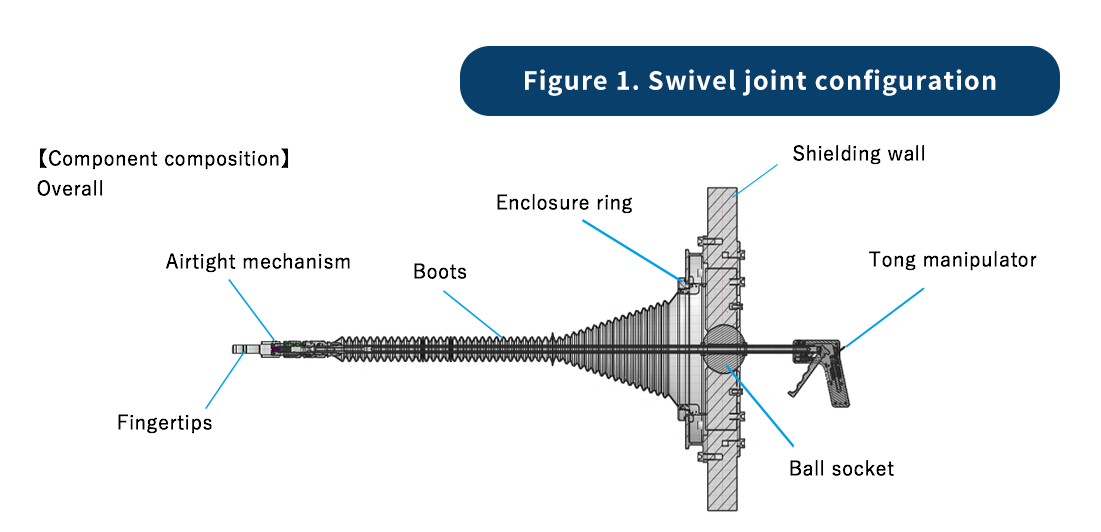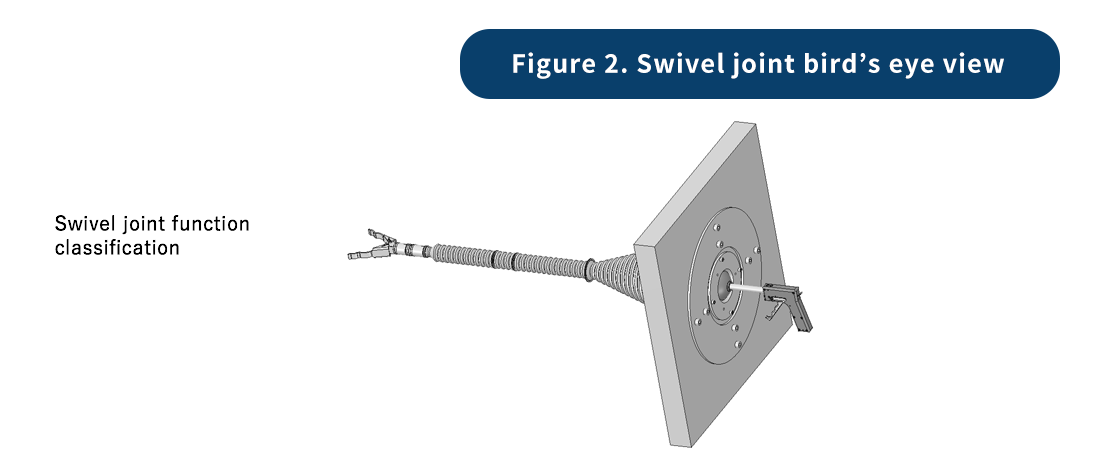 Swivel Joint function classification
Function category
Main elements determined in specifications
Diagram
Swivel joint
1) Thickness of shielding wall
2) Radiation shielding ability γ ray conversion
Allowable dose specification materials
Enclosure ring
1) Boot mounting area: Our specification
2) For enclosure ring mounting; can be made to our or customer specification
3) Material designation possible
Boot
1) Boot specification is specified by our company
2) Tong manipulator standard length
Tong manipulator
1) Type specification
  TKHM-X 3 model
  TKHM-III model
2) Reference length
3) Fingertips specifications
  Our specification
  Customized specifications
  available
Boot installation removal jig
1) Our specification
2) Customized specifications available
Fingertips attachment/removal jig
1) Customer specification
2) Customized specifications available
The Swivel joint is a part that supports the operation of the tong manipulator.
The spherical ball joint mechanism is capable of 3-dimensional range of operation with an elevation angle of ± 45 °.
Also, depending upon the thickness of the radiation-resistant wall, a ball socket specification can also be used.
The standard of radiation protection material is lead, but other materials can be used depending upon your needs.
However, it is necessary to consider the γ ray transmittance of the material, as shown below.

Since radiation energy intensity varies depending on the radio isotope to be handled, shielding specifications need to be taken into consideration.